← What the 2015 Budget Means for Motorists
How to Check Tyres and When to Replace Tyres →
How to Prepare for an MOT
How to Prepare for an MOT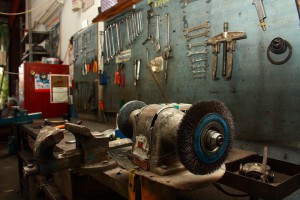 With the bank holiday fast approaching, now's the perfect time to book in and prepare for your MOT. There's few things so disruptive as unexpectedly failing your annual MOT, but there are a some things you can check yourself in order to avoid this happening. NMT Garage Services compiled some below to help you with your upcoming check.
Tyres
An easy way to prepare for an MOT is to ensure your tires fit the requirements. Check your car manual for the right pressure for your tires, and ensure they are inflated to this standard. You should be able to do this at most petrol stations. Once inflated to the optimum pressure, it's best to also check the tread of your tires. The minimum requirement is 1.66mm of tread.
Lights
Don't be caught out by something as simple as your lights – they are easy to check and replace yourself. Before the day, prepare for an MOT by turning on and inspecting each of your car's lights, including the rear registration light, and look closely for any cracks or blinking. If you're not sure, play it safe and replace them!
Fluids
It's always best to simply top up each of your fluids before your MOT, just in case. This includes your oil, your brake fluid and your wiper fluid. It's a good rule to have these filled as full as possible, rather than just to the minimum standard, however, remember not to exceed the maximum markings.
Mirrors and Windows
Window cracks will absolutely cause you to fail your MOT, so don't hesitate in having any chips fixed as soon as you notice them. However, when preparing for your MOT also keep in mind that we will be checking for obstructions to your view. That means that any large, dangling objects hanging from your mirror will be deemed unsafe. Make sure to remove any obtrusive objects that could negatively impact your driving when you prepare for an MOT.
General Checks
You should take some time going over your car just to make sure that each seat belt is working and clips properly; that your windows are clean and can clearly be seen through; that your horn works; that your license plate is clearly visible and securely fixed and that your brakes feel correct to the best of your knowledge – when pressed they should not feel spongy.
By taking a little time before your MOT to check each of these elements, you should avoid any unwanted surprises and we can have the pleasure of passing you easily. Contact NMT Garage Services today to book your MOT and make sure your car is road-safe.
Contact
For any further information on this blog, or you would like to know more about the other services we provide at NMT Garage Services, please contact us by filling out an online enquiry form, or give us a call today on 01234 355 888
This entry was posted in
NMT-Garages
. Bookmark the
permalink
.
← What the 2015 Budget Means for Motorists
How to Check Tyres and When to Replace Tyres →